V4 Congress joined + Flap Dissection Course Brno CZ Září 14-18, 2021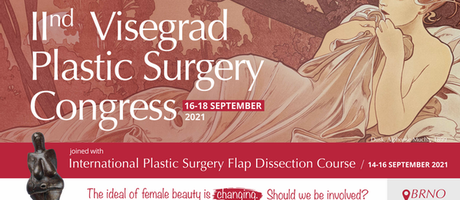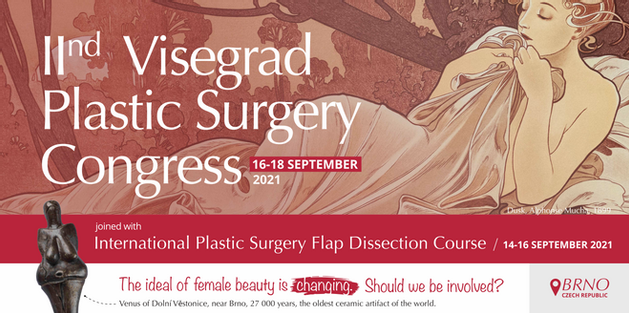 (klinutím na obrázek se přesunete na webovou stránku akce)
Dear Colleagues and Friends,
This is kindly to invite you to the II. Visegrad Plastic Surgery Congress joined with International Plastic Surgery Flap Dissection Course which will take place in Brno, Czech Republic, September 14-18, 2021.
Organizers evolve idea of Dr. Jerzy Kolasiński who started the first event of this kind 2 years ago in Polanica Zdroj. Very successful meeting proved viability of idea to connect plastic surgeons from Poland, Slovakia, Hungary and Czech Republic (V4), countries with similar geographical, cultural and political background.
Congress will provide space for nearly 100 presenters in free papers category, 8 invited lectures – 2 representing each V4 country, nominated by national societies and finally audience will have exceptional opportunity to learn from world leaders of our specialty Dr. J. P. Hong, Dr.  Bohdan Pomahac and Dr. Pietro Berrino. We suppose their key note lectures will provide us with extraordinary educational experience. Learning process will be enhanced by morning detailed courses in selected topics.
For those who want to improve practical skills there will be two days flap dissection course just before the congress. This course has been designed to address the needs of the residents in plastic surgery wishing to learn flap dissection as well as more experienced plastic surgeons who wish to extend their repertoire of flap surgery. Both our rare guests J. P. Hong and P. Berrino will be in anatomical lab and participate teaching process in person!
We wish you come to Brno to share your expertise, receive new ideas, meet old friends, make new one and also to say hallo to your teachers, mentors and inspirational heroes.
Welcome to the II. Visegrad Plastic Surgery Congress and International Plastic Surgery Flap Dissection Course in Brno.
LUBOS DRAZAN
President of the Congress
LIBOR STREIT
Course Charimain